What does it mean to keep up with the times? Some people see a necessity to make a constant upgrade of their devices and hardware; others abandon the consumption of meat and other victuals. It is up to you how to interpret the notion of being a contemporary citizen. Yet, business people have own vision of this issue. They do not go to extremes but go with the times in terms of advanced software solutions to utilize for profit. CRM is one of the ways to accomplish.
Benefits of CRM
Are you still unaware of the meaning of letters C, R, and M? If so, make sure to accelerate your comprehension of the business world and try to catch up with the modern trends. This acronym denotes customer relationship management that is a constituent part of any sales process. Actually, it is a driving force to improve a commercial activity by practicing a decent interaction with clients. The CRM software, in turn, is a digitalized solution to manage the said activities in a more convenient way. Certainly, it is rather difficult to remove skepticism from your thoughts. Perhaps, such benefits as the increase of sales, enhancement of productivity, mobilization of workflow, scaling of a sales process and others will bear a bit more trust in the usefulness of the mentioned software tool for your business activities.
Those who took off skepticism glasses can learn more about CRM and its efficiency for small business. Another part of the audience that expects for more practical prompts will be glad to review the following proven solutions.
EngageBay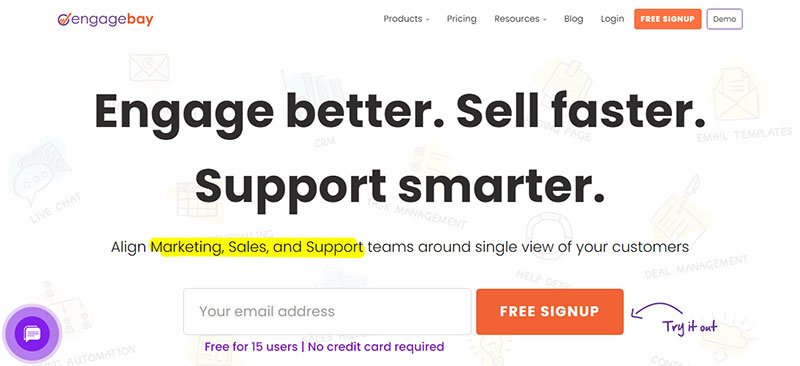 EngageBay is a powerful, integrated all-in-one CRM, sales & service marketing automation software.
The software provides a seamless experience for customers of small and mid-sized real estate agencies. This diverse package of solutions includes marketing automation, sales bay, live chat and helpdesk.
EngageBay makes it possible to automate manual tasks, track deals and sales pipeline, provide real-time assistance that easily converts visitors into customers and prioritize and solve customer support inquiries.
Starting at a monthly subscription as low as $8.99, EngageBay is feature loaded, easy to setup and use and has complete access in the cloud. It can be integrated with many third-party applications. It has excellent lead and pipeline management. Customer support is among the finest in the industry with prompt resolutions to issues.
Why is this CRM tool on the top? It is absolutely free and offers a full spectrum of components a CRM can offer for startups. Have you experienced any issues with organizing contacts and leads? Forget about the issues since HubSpot is designed to make you breathe easier. In addition, users obtain such useful tools as email notifications/templates, tracking of documents, in-app calling and others. Your future success lies in a decent organization.
The age of this CRM solution is 7 years. During this time, Pipedrive gained popularity among business people for its usability and features. You will have to pay $10 per user/month if the number of users exceeds 10. Still, this price is nothing for the package you obtain: unlimited contacts, thirteen languages support, simple integration with Google apps, and the focus on closing deals.
The popularity of Zoho CRM is lower than of the previously mentioned tools. Still, it is in demand by companies that need a decent product to deal with managing contacts and leads. Moreover, one can use the tool to steer the sales pipeline. If your working team is up to 10 users, you will be happy to save costs. Otherwise, the price is $15 per user/month. The software tool offers such advantages as automating sales procedures, providing a real-time access to data, utilizing social media, etc.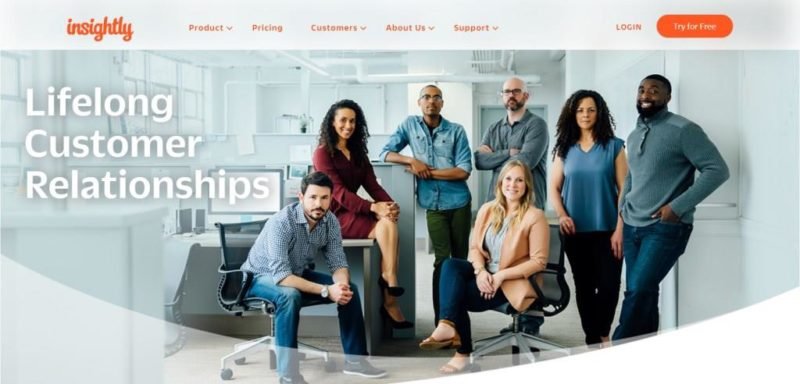 Small projects and businesses are the focus area of Insightly. The tool is packed with miscellaneous functions and features to manage your commercial activity namely to build relationships, increase sales, deliver projects etc. The said software draws users by its simplicity and usability amid a great performance.
Contrasted with the above-mentioned software solutions, NetHunt seems a tiny creature. Still, the potential of this CRM tool is enormous. Active users of Google products will be able to experience top-class integration features for turning Gmail into a complete CRM. Such fundamental elements as mass mailing, custom fields, unlimited records, and views, as well as email tracking,  are available.