So now that you have figured out a perfect niche and even a handsome domain name for your website, you must be wondering how to go about a hosting plan? Well, having a website is no biggie if you have worked upon the basics. Knowing well about all the nitty-gritty of hosting, you can have a pretty decent and attractive website.
Hence, we decided to put it down for you in a small (yet helpful) guide. Read on to find what is website hosting and how should you choose one for your website.
What Is Website Hosting Or Web Hosting Service?
Let's first look at Wikipedia's definition of Web Hosting Service. According to Wikipedia,
A web hosting service is a type of Internet hosting service that allows individuals and organizations to make their website accessible via the World Wide Web.
Now, this makes complete sense. You have a domain name and a website but, how will you show it to the world? How will your website be available on the World Wide Web so that people can search for it over the Internet? All of this is possible with a website hosting plan.
A website host is a service that provides you with a dedicated space over their servers so that you can have your website displayed over the Internet. Once you have a hosting plan, you can push your website live to let people see and search for it.
There are many host service providers like GoDaddy, Bluehost, Hostgator, etc. and, you can pick any one of them based on the customer reviews, hosting plans, budget as well as, customer services. No matter where do you purchase the hosting from, all of them will provide you with some common features that include:
FTP Access: The FTP access lets you upload your website over the Internet. If you have developed your website yourself, you can transfer all your HTML files to the server through FTP access.
Email Account: All the hosting providers will give you a business email account matching with your domain name. For instance, if you have a website – www.domainname.com, your business email account will be xyz@domainname.com. However, a few of the host service providers will give you this offer free of cost while some others might charge you.
Website Builders: If you already have your website designed, you don't need website builders like WordPress, Wix, Constant Contact, Jimdo etc. But, if you don't have it, you will get one-click install service for all of the significant website builders so that you can design and customise your website.
How To Buy Website Hosting?
Well, as mentioned earlier, there are many website hosting providers that you can consider. However, you can follow the below-mentioned steps to purchase the hosting from Bluehost. (The process remains same for other host providers as well)
Step 1: Visit the official Bluehost website and click on "Get Started".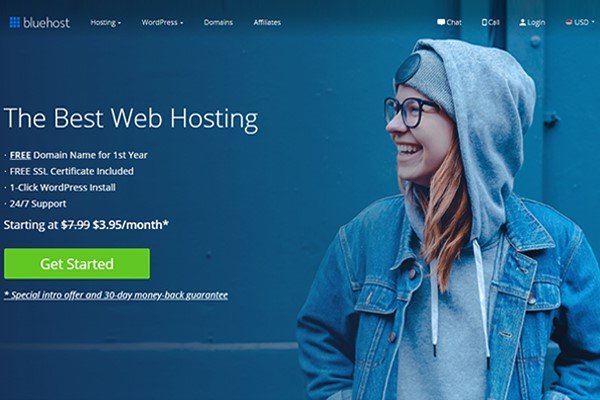 Step 2: This will lead you to four different hosting plans – Basic, Plus, Choice Plus, and Pro. Choose any one of them according to your needs and budget. If you are just starting off, we recommend the Plus plan. (However, you can upgrade your plan anytime)
Step 3: Clicking on Plus will take you to the next page where you have two options – either enter your already purchased domain name or buy a new one.
Note: You will also receive a pop-up to choose the domain name anytime later.
Step 4: Let's create a new domain say, "hostprovidertest.com". You can enter your preferred domain name and select the desired extension from the drop-down. Click on "Next".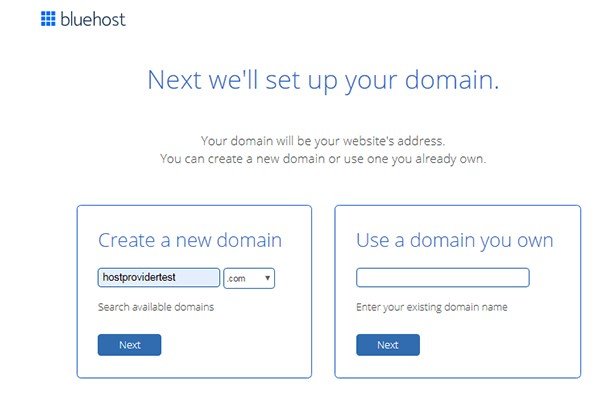 Step 5: If your domain name is available, it will take you to a page like this one: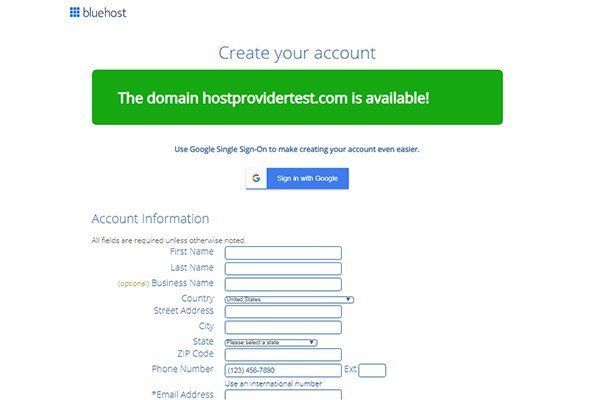 If not, you can search for other domains or leave this for any time later.
Step 6: The first section is the Account Information where you need to fill all your basic details such as Name, Country, Address, Phone Number, Email etc. Please fill your details correctly and true to your knowledge.
The next section is the Package Information where you have to select your plan details. You can choose between 12, 24, or 36 month of hosting depending upon your budget.
Moving further, you can select if you wish to buy some extras along with your plan. However, as a beginner, you can skip them.
The final step is to add your payment information and buy the hosting plan. Don't forget to accept the terms and conditions as well.
Step 7: Click on "Submit" and that's it. You will soon receive the complete information regarding your hosting plan and cPanel login details in your mailbox.
So, congratulations! You just learned to buy a hosting plan for yourself. Yes, it was that easy. We hope this guide would help you through website hosting and purchasing. It's not at all a rocket science and, almost anyone can do this. However, if you are planning to start an e-commerce business of your own, leave all this stuff on a reliable digital marketing agency so that you don't have to worry much.