Embarking on your own business venture has always been an exciting chapter in life and a challenge in all sorts of ways. With the rapid spreading of the virtual global market, though, that challenging chapter has expanded to cover all new storylines. However, regardless of the exact kind of business someone might start online, there is one thing everyone will always need: being picked up first by the various search engines. This is a surefire way to get customers and revenue, and this is also why a reliable, good quality SEO service will always be in high demand. If you had the idea to turn your own entrepreneurial spirit in that direction, here are a few pieces of advice to help you get the top results!
Make sure you have a strong online presence.
This should be a fairly obvious thing, really, but it is still worth pointing it out. Since you are going to be dealing in a strictly internet-oriented line of business, you need to make sure that you are easy to find, as well as easy to engage and understandable to the average internet user. In order to achieve this, you will need to build and maintain a good quality website for your business.
For some nifty tips and tricks on how to make your website stand out in the rest of the online ocean, visit this link: https://www.techwyse.com/blog/website-design/tips-for-an-awesome-website/
You should also browse around to get an idea of how to set up your web page so that it is more particularly suited to an SEO agency. Check out the website of Justin Monk SEO for one excellent example. These guys have got it all nailed down: a clear layout, a visually appealing design which is easy on the eyes, properly selected and effectively presented information, and several kinds of dynamic animations that grab your attention whether you want them to or not.
Also, even though you are going to be focusing on Search Engine Optimization, you should not disregard other kinds of marketing techniques either, especially those centered around social media. Go beyond the default Facebook giant and make sure your name is out there on as many related blogs, Quora threads, e-commerce forums etc. as possible. These kinds of web pages are the virtual equivalent of your local pub, where people will gather to share impressions and ask for (as well as give) recommendations.
Always provide free consultations.
It might appear to be completely counterintuitive at first, but giving free consultations will help you propel both your reputation and your results in the long run. The logic here is quite simple: before you start building your price list, you will need a way to build trust. Visit this page for some additional ideas on how to achieve that.
If you take a little bit of time out of your schedule and give some handy advice to a prospective client, your chance of closing that sale will skyrocket in nine cases out of ten. As with most relationships, whether personal or professional, it is the little things that cement them into place.
Letting your clients know that you are available and willing to help will make them feel more secure, as well as casting you as "that reliable friend" instead of "just another hired hand", and this humane factor in business will often tip the scales over to your side.
Strive to keep on innovating.
Every business comes to a point in its course of development when it starts stagnating. The profits are good and stable, so the company will maintain the status quo and just stay in the comfort zone – not fixing what is not broken and all that jazz. This is common but dangerous.
In our insanely paced modern world, change is a daily menu item, and if you do not keep up, you simply drown. There are tons of competitors and the clock is ticking on one of them getting ahead of you. So invest in new directions, new products, new strategies. Keep it diverse and dynamic, and keep going forward. Check out this article for some ideas on how to stay innovative and keep your business thriving.
There is less and less room for genuinely new ideas with each passing day, but there is always an empty spot on the "I need solutions" shelf. Whether you decide to start a school for SEO-savvy writers, or take a shot at publishing a book about your business, always do your best to keep it relevant.
Invest in your team and maintain a close circle of connectors.
A strong, productive, well-connected team is the backbone of any successful work environment, and an SEO agency is no exception. That is why you need to invest in your employees and/or coworkers.
People are your best resource, but people are creatures of community and emotion. Do not fall into the trap of becoming so goal-oriented and fixed on productivity that you forget to nurture the human side of the office. Take some time to get to know your people. Hang out after work and stop by for a hello on your way along the hall.
Visit this link for some team building advice: https://www.huffingtonpost.com/rosalind-cardinal/5-steps-to-building-an-effective-team_b_7132406.html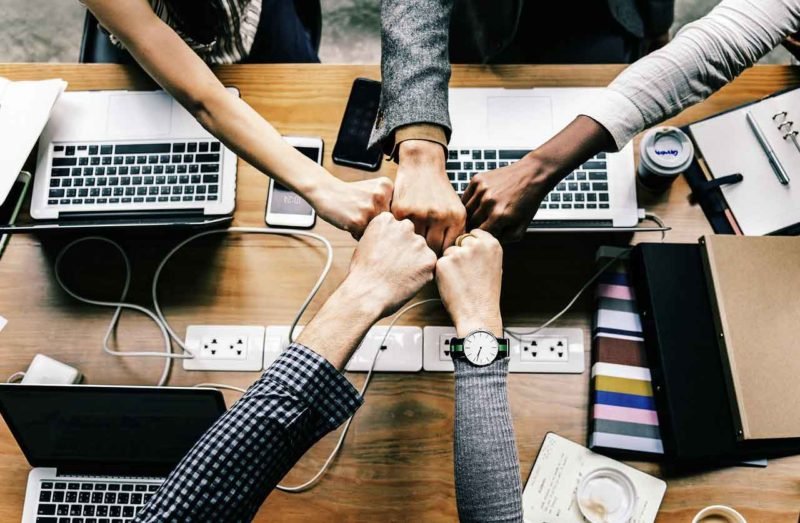 If you have a large team to handle, consider fostering a circle of connectors. These are a few people closest to you who can act as a bridge between yourself and everyone else. These are the handful of teammates who know what you are about, why you do things the way you do and believe in your leadership and friendship.
In the end, the steps you end up taking to make sure your business survives and thrives in our modern reality of crazy competition will really depend on your day-to-day situation. However, even if search engine algorithms keep evolving into trickier forms, these four essential basics will always hold true. Well-nurtured presence, availability, relevance, and cohesion will take you miles down the long road.