It is common for every blogger to get into a writer's block, now and then. You are short of ideas and are not sure whether your next article will go viral or generate enough ROI on the investment you make. As you know Google prefers articles with good user experience and keyword focused content.
In such scenario getting an idea about the next topic you want write becomes a little confusing task. In this aspect, there are several tools which suggest you title ideas which can be improved upon further. SEMrush also has a new feature in its arsenal called Topic Research that will collect the important topics based on your keyword.
It is still in beta phase for Pro users. But currently, it is available to all paid users without any limitations. But in the future the tool may be limited to the number of searches and access to the tool may be restricted.
So better you start your trial or use a Pro account and test its features immediately.
How does Topic Research work in SEMRush?
On the left-hand side panel, once you login to SEMrush, you see a link known as "Topic Research" with (Beta) in orange color.
When you click it, the content on the right-hand side changes.
Here the input data consists of two things.
Enter topic
Country
Currently, this feature is available only for desktop traffic.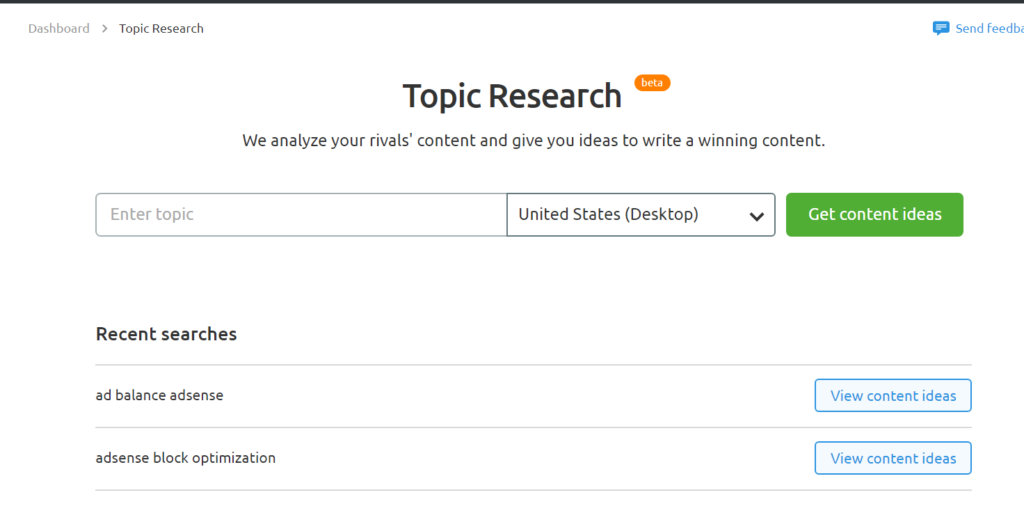 In the first option, you can enter any base keyword of 3 to 4 words to get topic ideas. The next option is a drop-down box, where you can choose the country base of Google, based on which you get different results. Here you can also select the region and city.
How to Choose the Topic to get Ideas from SEMrush?
My suggestion to get topic ideas is to enter a keyword that is already having a good impression in Search Console. This is one of the free tool provided by Google, where it will give different data about your website. All you have to do is insert a line of code or upload a file to link your website to Search Console.
Since Google stopped provided keyword data in Google Analytics, the only chance of knowing which keywords your site ranks well in Google is the Search Console.
Once you connect your website and login with your Google account, on the left-hand side
How to use Search Console to get base Queries for Topic Ideas?
Search Traffic  > Search Analytics
On the right side, you see different options like
Queries
Pages
Countries
Devices
Search Type
Search Appearance
Dates
If you select any one option like "Queries", you will see all the keywords that are appearing in Google. You can also find the number of clicks, Impressions, CTR, position of the query. This way you will know which article is ranking well for different queries.
In my opinion, I do the following method to find the most popular query searches.
First I select the "Pages" option.
I select all the four options above.
Based on "Impressions" I sort the articles in the descending order for the last 28 days.
Now I click the topmost article.
The article is selected and on the next page shows nothing
Then you click the option "Queries".
Now all the keywords which are ranking in Google for this article are displayed.
Sort them in descending order based on Impressions.
If its 1 or 2-word keyword, scroll through to find at least 3 or 4 words based query.
In my case study, I choose the following.
highest paying Adsense keywords.
make money online keywords
how to get high CPC Adsense

The Climax of Topic Research
Now enter any one of the above queries in the "Enter topic" text box.
For eg. I'm using "make money online keywords" query. I selected "United States (Desktop) as the base Google search engine and did not select any other region or city. Now click the button "Get Content Ideas".
This will take 1 minute or two. At the time of writing, I was getting a temporary server error, due to which I cannot show the real results for this query.
But I already did this for the query – "Adsense block optimization".
These are stored at the bottom. On the left, you can see the link "View content ideas".
Some of the topic categories generated are –
Google Adsense
Adsense  Account
User Experience
Content Ad
Text Ads
Ad Sizes
Ad Placement
Ad Space
Adsense Custom Channels
Adsense Optimization Tips
How to Optimize Adsense Earnings
Adsense for Content
Adsense Publisher
Revenue Auto Optimization
Etc.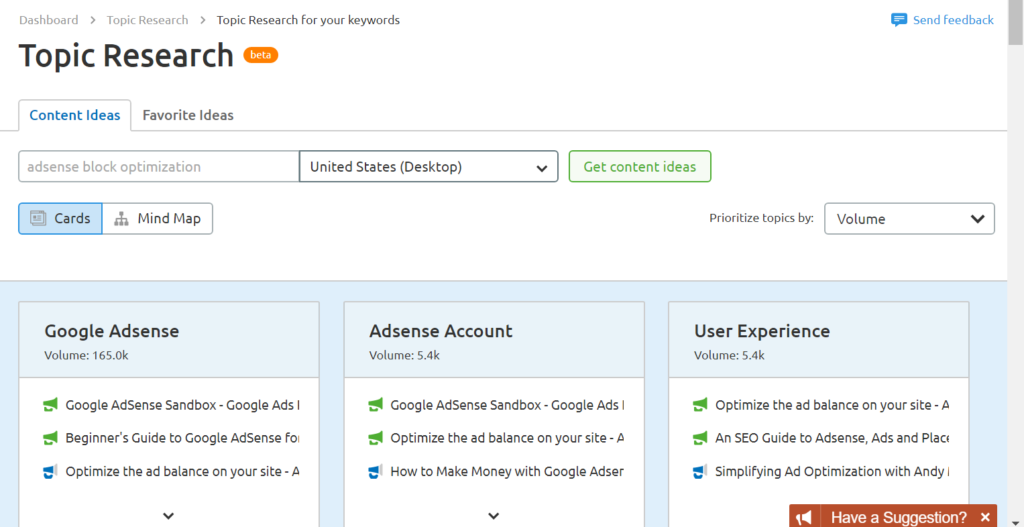 You can also see the volume below each category. Now there is a "down arrow" for each category. When you click it, you can see the topic ideas for that topic category query.
You can see 1. Headlines and 2. Questions etc.
Most of the headlines are articles from different websites which are relevant to the topic query. The "questions" part can be used in your future article as sub-headings. Based upon the content from the headline articles and questions, you can write curated content for your base keyword you entered in the topic search box.
These things are listed under "Cards".  On the next tab above, you can see "Mind Map".
When you click it, you can see relevant keywords for the topic keyword.
For eg. for the topic query "Adsense block optimization", the mind map shows the following –
Optimize Adsense ads
Performing ad
Custom channel
How to optimize ad units
Maximize ad revenue
Adsense publisher
Adsense for content
Adsense optimization service
Etc.
You also have the "Favorite Ideas" tab which list some of the content idea titles. This will show the following data.
Backlinks.
Content Idea
Topic
Subtopic
Search Volume
Actions
Conclusion
This topic research is very much useful if you are starting a new blog concentrated on a particular niche. When you write 25 to 30 articles focused content on your blog, you are bound to get some queries in the Search Console. When you input them in this text box, you will get better content ideas.
Since SEMrush uses lot of million keyword data collected from various sources and websites, these ideas are useful from SEO point of view. At least these given an idea when you are short of topic ideas. In this way, you can make an Excel sheet of data consisting of the favorite topic you want to write on and publish it as guest posts and on your site, for better revenue and traffic.