Initially, iTunes was made to meet the needs of iPod users for a software that is able to manage music content properly. But over time, simple music players are not enough anymore. iPhone, iPad and iPod touch users need software that can do more tasks such as managing applications and also making backups of the iPhone. If you are an iPhone user then you need a multi-tasking software; able to manage all stored data and make a backup of them all. Apple does not allow us to do comprehensive data management and that is really annoying. Fortunately, you can backup iPhone without iTunes.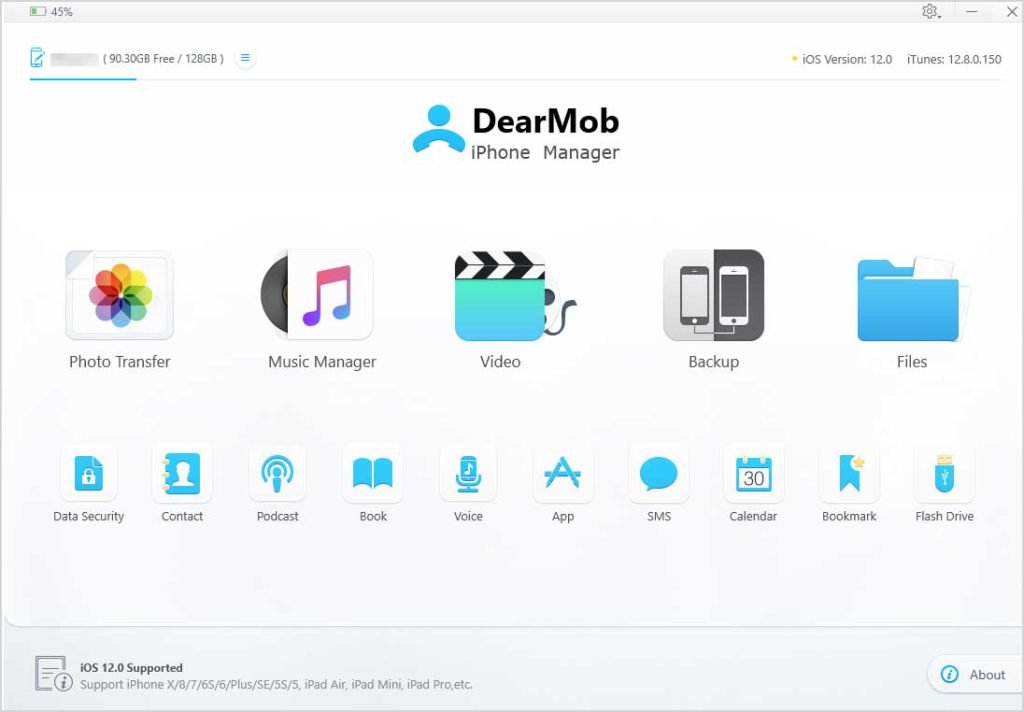 We recommend DearMob!
DearMob iPhone Manager is complete software that is able to manage all data stored on your iPhone. Whatever your data is; eBooks, photos, videos, music, recordings, applications … all can be processed and stored without going through the cloud. Dropbox and iCloud are fantastic but you don't have to always use them. Besides that, iCloud isn't really safe and somehow, some hackers can penetrate it. What must be realized is that both iCloud and iTunes can't back up data that is downloaded online and imported from your computer.
How can DearMob really help you?
There is always a reason for everything and the main reason why you should switch to DearMob is that this software provides several features that are difficult to match with similar devices:
Easy backup
You only need to click the Back Up Now button and the backup will take place within 20 minutes (depending on the capacity of the data that is backed up). In other words, you are given 1-click full backup & restore iPhone ahead of time.
Advanced backup
You can click the corresponding icons listed on the interface and the backup can take place immediately. Photos, contacts, videos … all can be reserved just by clicking on the related icons.
You can backup and restore whatever you have bought
You can backup and restore iTunes purchased music / movies / books / apps easily.
Again, you don't need iTunes to do all that!
You don't have to be limited by iTunes
iTunes sometimes prohibits some files from being transferred to other devices. With DearMob you can go through all these restrictions. Even you can transfer from old iPhone to new iPhone.
You can change the data format
Sometimes the data you want to move does not match the destination device. Don't worry because you can change the format of your data so that they match the destination device.
Guaranteed privacy
DearMob adapts a complicated algorithm-based encryption system to ensure the security of your data from hackers. The encryption system used includes Argon 2, PBKDF2, 256-bit AES and 1024-bit RSA.
It is certain that DearMob is able to fulfill what you need from backing up, restoring and transferring your iPhone data. If you are interested in trying it now is the right time as DearMob has a limited giveaway special offer, the so-called