There's nothing wrong with having a pan that serves all purposes. After all, owning the right one can put a huge lot of difference in cooking!
While having a whole bunch of different and matching pots look attractive, they only pile-up the racks if they are not apt. for your dish.
Furthermore, shopping for kitchenware is tempting, but the high range of gimmicks, the gamut of different quality pans and many other things make it a harrowing experience.
Well, there's a purpose of every pot. You might want the one of a simmer cooking or want something sturdy for cooking tomato sauce.  Perhaps, you are looking for durable yet attractive one which is perfect for frying and steaming veggies, the options are endless.
Though all pans share same traits, how will you choose?
To make your shopping experience smooth, here are few pots that you can put in your kitchen:
Stainless Steel Is the Fighter
The king of every traditional kitchen: stainless steel is long lasting and sturdy. They are light as compared to its counter ones and are non-reactive, which means you can cook any acidic substance like wine or lemon juice.
The best stainless steel pans have a heavy base with a conductive metal imposed between the layers of stainless steel.  The metal is perfect for distributing heat all over the pan.
Pros:
They are sturdy
Features heavy base
Perfect for even cooking
Usually light in weight
The Super Strong: Red Copper
Red copper pans feature non-stick ceramic surface with a pure and sturdy base. These pans are durable and are even oven safe. Perfect for cooking deserts, making caramelized sugar and eggs, they will serve all purposes with ease.  Since these pans deliver heat evenly all over the place, you will be able to cook faster.
Moreover, they are easy to clean and will perfectly complement your kitchen when hanged in the rack.
Pros:
They are visually appealing and stylish
Oven safe
Easy to clean
Still doubtful of cooking in a copper pan! Go to any reputed platform like redcopperpan-reviews and study about them!
Aluminum Pan
Aluminum is light-in-weight and easy to handle. However, it is not suitable for cooking acidic and alkaline foods. It reacts with acidic, sulfurous and foods that have citrus components. They are non-stick and are anodized.
Pros:
They are safe
Are best for cooking non-acidic foods
Lightweight
Nonstick Coating Pans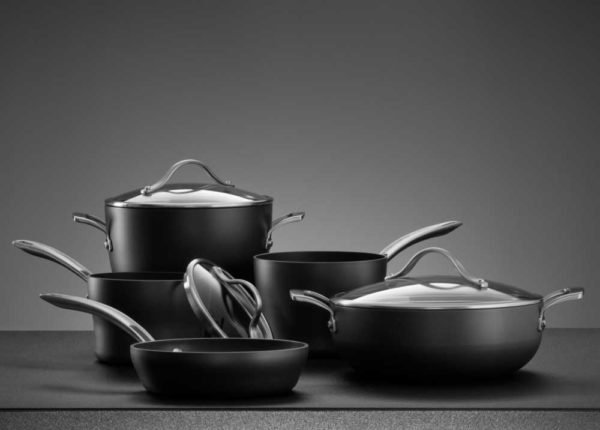 Nonstick pans are great for cooking; they clean up easily and make the task of being in the kitchen a breeze. Since they are made from various non-reactive substances, they can be used on a daily basis. They are perfect for cooking anything that requires medium to low heat.
These pans easily get reacted with the heat which can hamper the coating of the pan. Also, don't use rough ladles; instead use wooden or plastic ones to avoid any scratching in the pan.
Pros:
Easy to clean
Can be used to cook anything
Safe for use on a regular basis
Enameled Cast Iron Pan
Like non-stick cookware, enameled cast iron ones are easy to clean and are durable. You can use them for anything, be it simple cooking, stewing, be roasting or braising. They possess heavy base and are entirely durable.
Unlike aluminum pans, they don't leach and are completely safe for all type of cooking. Moreover, they are beautiful and come in various designs that will surely complement your kitchen.
Pros:
Easy to clean
Durable and sturdy
Comes in various styles and designs
Cast Iron Pans
If you need high flame cooking, Cast iron pan should be in your kitchen. It is heavy and delivers heat evenly all over the pan. You can use them for the searing stick as it efficiently cooks at mid to low flames. Also, they don't react with acids and citrus so you can use any other pan if you don't want to deglaze your cast iron pan.
Pros:
Perfect for searing
Easy to clean
Features heavy base that distributes heat evenly
So, instead of filling your kitchen rack with pots and pans of various shapes and sizes, having the one that gives you easy to cook your favorite dishes is a must!