Instagram automation
Running your own business, however small is always stressful cause it requires a constant search for new perspectives and possibilities. To be represented on Social Media (especially on Instagram)  is a trend which continues to gain a larger scale. So businesses, even offline ones, create their accounts on SNS.
But how to build up the right policy of promotion on Instagram? Why lots of experts advise to use Instagram automation services? And how to use them correctly? Read till the end to find out all the answers.
What's the reasons for SMEs to be represented on Instagram?
You show the face of your company. Your images and videos with the participation of your team and satisfied customers will help you to make the connections with customers more personal.
Being known as an expert. If you develop your own expertise – deliver useful information about a product or service to your supporters, you let your clients see you as an ace. It will increase the brand confidence. Publish helpful tips in pictures, show reviews, test drives, the production process in videos.
Collect data. Encourage dialogue using the Poll feature in Stories. This will allow you to draw conclusions about the company's work, to learn the opinion of consumers about your product, their preferences, to plan the product mix, and discounts. Business accs also have access to analytics, where you can gather useful statistical information, such as the number of impressions and demographic data of followers.
Drive traffic to the website and your other pages. You can add active links to your site, blog, and accs on other social networks in your Stories and Bio.
Increase sales level. You can inform your fans about your USP, notify about sales and promotions, about the product expansion and the emergence of new services. The beautiful presentation will expand the coverage, and an attractive offer will increase the number of purchases.
Engage the audience. You show your people your sincere interest, and they will do the same. Communicate with them via Stories, via Direct Messages and Comments.
Establish contacts with partners. The meaning of social networks is to establish contacts. IG is a great place to find like-minded people with similar interests. You can expand your network of contacts and collaborate with a brand or an opinion leader to increase coverage.
Attracting new followers. Give users the ability to find your IG acct using tags and geolocation tags easily. You can create branded tags and track their use.
Staying on track. You share your interest in the current situation in the industry and in society. Publish materials for a particular holiday, a high-profile event that affects your audience.
What is an Instagram automation tool?
An IG automation tool is a service, created to make all processes directed to the promotion of an acc on Instagram automatic. It operates according to the principle of mimicking human behavior, their algorithms exclude the possibility of IG blocks. Along with the high performance, they can yield quality results fast. That's why they are so popular nowadays.
How can you use it to advance your brand promotion?
As a feature set of IG automation tools is quite vast, be ready to read a lot.
Find your Target Audience!
First and foremost step you should take is to define your TA among millions of IG accounts. Using such tools, you can find it by
hashtags that your TA suppose to use. For instance, if your TA is bodybuilders, you should point out #bodybuilding #fitness #gym #fit #workout #lifestyle #health #physique #healthy #abs #diet #model #protein;
the location from which your TA post their photos;
usernames of Instagrammers. You can point out your business rivals to attract their public or famous influencers of your niche.
You can narrow the search by using such filters as
Defining your target audience will help you to choose the right direction of your marketing approach, increase the efficiency of a promo campaign, and to increase the loyalty of your customers.
Follow and Like it!
As soon as you adjust all the targeting settings, set up the process of mass liking and following of your TA. It's still the most effective means of attracting new users to the acc.
As I've already said, the algorithms of such tools provide fast results acting within specific limits. In addition, precise targeting enables the attraction of only relevant people.
While choosing tags, bear in mind the following points:
in hashtags search results, there will be a huge number of posts with high-frequency tags – it's unlikely that your post will be seen;
hashtags should reflect the photo or the text of the post, it means they should be relevant;
witty unique tags can enhance the meaning and mood of the post.
Automation tools grand you with the opportunity to come up with the best tags instantly without losing any sleep over them. It is a perk of some good tools, they introduce hashtags generator.  You need to enter a keyword, URL or simply upload a photo, and in a second you will receive a list of tags classified it the frequency of use. You need to pick any you like, copy and paste.
Write a couple of messages!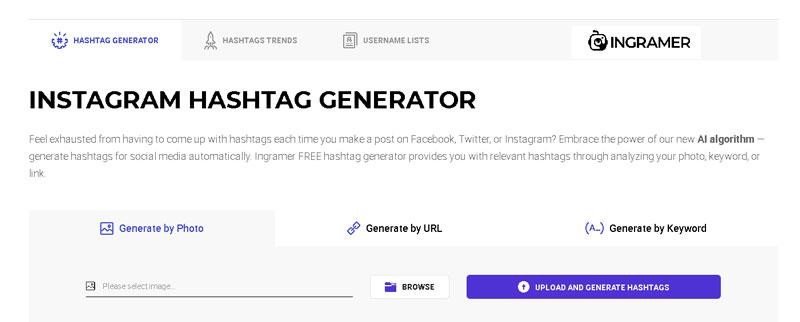 You need to become closer with the acquired followers to increase loyalty and engagement. Automation tools offer to send automatic DMs to your audience. Send your unique proposal, notify about new arrivals, say "thank you" for following you. You will see the rewarding nature of such simple feature immediately as people are more responsive if you apply in person.
Leave comments!
Appeal to people's ambitious personality by leaving pleasant comments for them. That way you can make them interested in you and your brand. Praise them for a great picture and good looks – write something that would be suitable for most users. Thanks to the automation tool, your comments will appear under the posts of your TA fast.
And track statistics!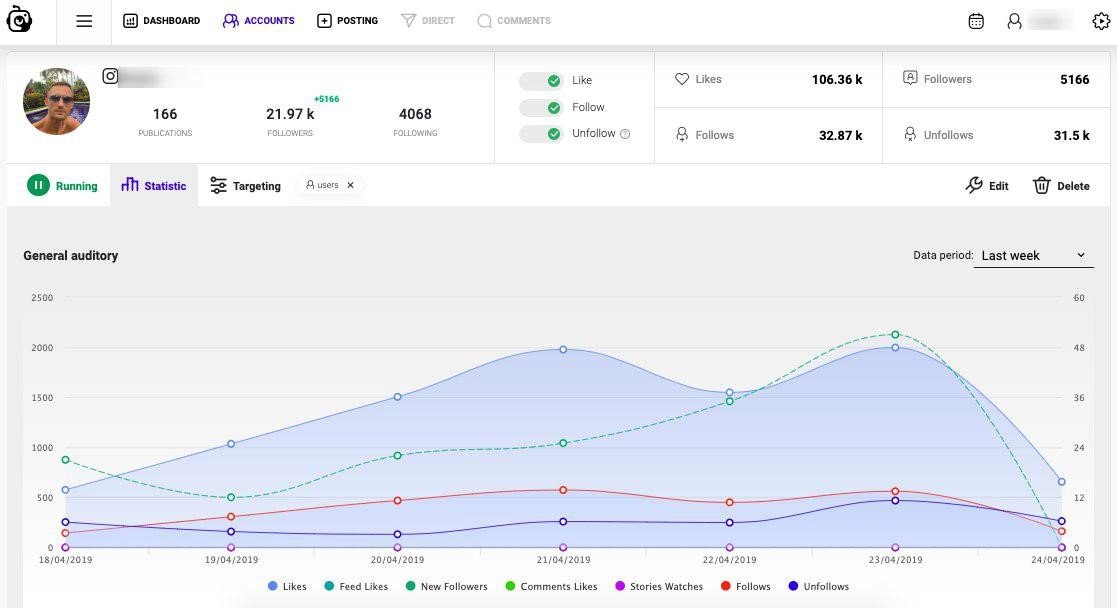 To know whether your promotional policy is right or not, track advanced IG statistics within the automation tool. You will receive such data as the number of daily likes and follows, the number of comments, the ER, etc. if you see that something goes wrong, just change your tactics!
Let your business vault to the top, do not lag behind! Use automation tools to facilitate the execution of such a hard task and do not forget to track statistics to observe results!