Rarely your iPhone may hang or freeze during its working. Some people of old time can call it crash when it doesn't work and they will not respond to the home sleep button or the touchscreen. Therefore, if your cell phone is hanged with The Apple logo during your start-up and it cannot back to the home screen, it seems that your iPhone is damaged, crashed or frozen. That is not actually the situation. Here we will tell some steps to take your iPhone out of frozen or hanged condition.
Try This First: Reboot the iPhone
The first thing you should do to try to remove this issue is to restart the iPhone. Genuinely, that will not fix this particular issue in most cases if iPhone frozen but it's by far the easiest way and won't cost you anything other than a couple of seconds patiently awaiting the smartphone to set up again.
If that fails properly, your following phase is a hard totally reset. This is a more extensive type of restart that can sometimes fix the issue. Here's how to restart and hard reset your iPhone.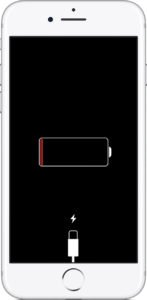 Recovery mode
If neither kind of restart set your problem, put your iPhone into Recovery Mode. It lets your iPhone connected with the iTunes software and recovers the backup data onto your cell phone or fresh installation of the iOS. It is a comparatively simple procedure and resolves the issue. Here is how to use the IOS system Recovery Mode.
Recovery Mode works more often than a restart, but even it does not fix the issue all the time. If that is true for, you need to use the DFU Mode.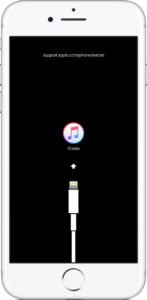 If that is not functional: use DFU Mode
If your iPhone is still showing the same issue to show only Apple logo when you start it and it shows nothing else, there is an issue start-up up your smartphone. Device Firmware Upgrade or DFU, Mode prevents your cell phone from start-up, to connect it with iTunes and recover the iPhone you start with the fresh boot.
Running the DFU Mode takes little practice because it needs an accurate set of steps, but try a few times and you will get it. To get in DFU Mode, read these following instructions:
Open your iTunes software on your desktop computer or laptop (if you do not have a desktop computer or laptop, you must consult at The Apple Store for more).
Now connect your iPhone smartphone to your personal computer with USB cable.
Turn off your iPhone. If the iPhone will not switch off with the use of the on-screen slider, keep the on/off button hold until the screen turns into black.
After the smartphone is off, keep down the on/off button for 3 seconds.
When 3 seconds have approved, keep having the on/off button you should pushing the home button on the front of the smartphone (if you have an iPhone 7 series cellphone, use the volume down button instead of the home button).
Hang both control buttons for few seconds.
Let go of the on/off button but keep having the home button for another 5 seconds.
If anything is a screen on the screen, The Apple logo, the Get connected to iTunes immediate, etc. – you are not in DFU Mode and need to begin with the process again from phase # 1.
If you're the screen of your iPhone remains black and screen no matter what, you are in the DFU Mode. You can use it hard to see, but an iPhone screen is switched off seem to be different from a screen that is on but does not show anything.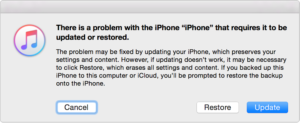 Once your iPhone turns into DFU Mode, the pop-up window disappears in iTunes and encourages you to recover your iPhone. You can either recover your iPhone to manufacturer configurations or fill a backup of your data onto the smartphone.
What causes an iPhone to Get Stuck on The Apple Logo?
Your iPhone is showing only Apple Logo screen your operating system is not working properly and it is preventing the smartphone from start-up normally. It is very complicated for the common users to find out the real cause of the issue is, but you can check some of the problems that are common in such iPhones issues: