Inbound leads are something which is mostly getting ignored in any organization, but it has some great potential. There are many reasons why being a company you can't miss a single inbound call and some of those are as below-
These are highly targeted leads and so conversion chances are high
All will be either free ways to get the leads or very cheap
Will help you provide customized the solution and so chances of more sales
You can use those calls to make your other service and support better
And there are much more other features as well which you can get from those calls. But managing and tracking such inbound calls are not that easy. Definitely, you won't be able to do it manually and we need some automated solution. Besides tracking calls, you'll also want to look into suitable lead management tools that can help you keep track of all your prospects. Otherwise, you'll quickly lose the overview and miss on valuable opportunities.
One such amazing tool is Ringba which is an enterprise inbound call tracking and management tool. Ringba helps business to record the inbound calls, manage those, and then provide you the best analytics. But before moving ahead with how to track sales with Ringba, let's see what is call tracking.
What is sales call tracking?
Sales call tracking or in general, call tracking is a way that helps you determine the advertising channels. This includes cloud PBX, a callback widget, and call queue.
This wizard is basically providing you all the details about the calls like-
Source of the call
Timing and the duration of the call
And many other factors which will help you track sales calls
How do call tracking tools work?
Here is a simple mechanism using which any call tracking software works;
Call trackings process works through a particular script that monitors and shows the website visitors a different phone numbers to call, depending on how they came to the site or other user attributes.
When someone dials your toll-free number by seeing on your advertisement then using the tools like Ringba, you can route it to your respective department.
Keeps all the data related to calls and stores either in their tools memory or in a centralized system for further analytics. This can be any analytics tools like Google Analytics as well.
You can connect your call tracking tool to the other CRMs as well for further use of those data. For example, you can connect your email marketing tool to that and start working with the inbound email campaigns.
How to track inbound sales call using Ringba?
Ringba is a leading enterprise tool for all kind of call tracking and marketing. Once you are with Ringba, you won't have to think how you can best utilize your calls.
First of all, sign up for Ringba for a free trial or free plan and explore the amazing call tracking software Ringba. Once you are doing with the account activation, just follow the following 4-step process and get started with the call tracking and analytics.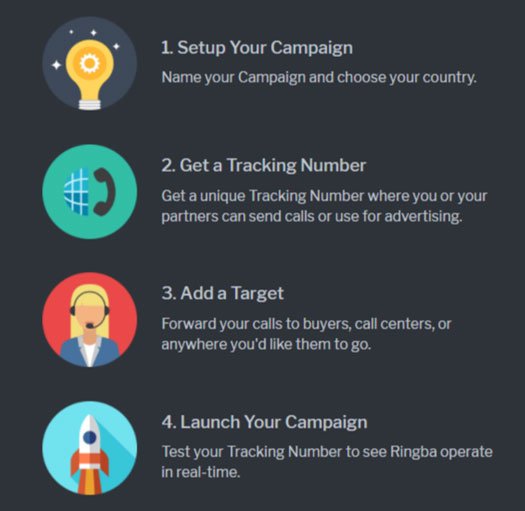 As you can see, all you have to do is first set up your campaign. This can be any inbound campaign like call center calls, support calls, etc. as per your business needs.
Once done, get a tracking number on which you will receive the calls. For this, the best thing is to get the toll-free number. By this way, you won't have to worry about the cost your users will have to pay. And so, you can get uninterrupted leads through your potential customers.
Later you can decide what should be the target where your call will be landed. After all these, just launch the campaign and start getting the calls.
Conclusion
This was all about the best way to track the inbound sales calls and get the best out of it. Using Ringba, you can get all those details which will help you enhance and grow your business.