The easiest way to keep your emails private is by using the most secure email service. They play an essential role in protecting your anonymity while offering a secure and encrypted email. There are email service providers who work with law enforcement agencies such as NSA and CIA, by helping them access communication and encrypted attachments.
The best email services offer unique features beyond the basic incoming and outgoing emails. Security and privacy are the essential features in the online realm and most importantly your email account. Here are some of the few secure email services that are proved to offer email privacy and encryption.
10 Most Secure Email Services
#1. CounterMail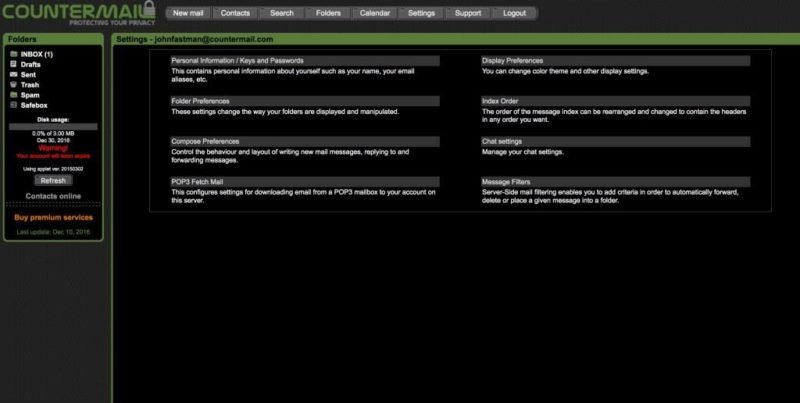 CounterMail is one of the most secure email service providers that use a strong encryption protocol (OpenPGP) to provide an automatic and transparent encryption. It operates on a diskless architecture, unlike the traditional email service providers which prevent any leakage of IP-addresses from its web server to a hard drive.
You can access the email service through a mobile app or a web interface. The CounterMail developers value function over form as they guarantee the security of your email communication.
Pros
It supports IMAP and email filters
It includes an inbuilt password manager called Safebox.
It doesn't retain your IP address logs
Allows you to receive mail through several identities.
Cons
It is free only for one week
You cannot send encrypted emails to nonusers
You need to pay for more space for emails.
#2. ProtonMail
ProtonMail is one of the best free, encrypted email service provider based in Switzerland. It tops the list since the company has a proven track record of providing users a secure platform. It is ideal for those who value their online privacy.
Unlike other service providers, ProtonMail uses an end-to-end encryption which means messages you send are encrypted and the recipient is the only person who can read the messages as they have secret decryption keys.
Pros
You can send encrypted messages even to non ProtonMail users
It has a two-factor authentication option
You can compose messages with rich text and image formatting
It supports CSV contact imports
Has lots of keyboard shortcuts
Cons
It does not support SMTP, IMAP or POP3.
You cannot change the default email signature on a free account but can be erased before sending each email.
#3. Hushmail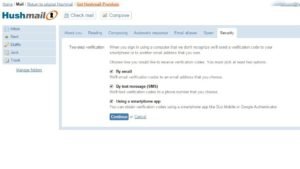 Hushmail offers a variety of security features in an elegant interface. All emails are highly protected with encrypted passwords and not even Hushmail itself can gain access to contents of your email. It has a variety of features such as blacklisting, spam-filtering, and anonymity options.
This includes an unlimited number of email aliases that maintain your private identity. You can choose a variety of addresses when making a new Hushmail account and you can send encrypted messages to both Hushmail users and nonusers.
Pros
It supports POP and IMAP
You can import contacts from a CSV file.
It comes with 10 GB of email storage
You can enable auto-response
You can mask your identity online by creating unlimited email aliases
Cons
There is little storage in free accounts (14-day trial)
#4. Mailfence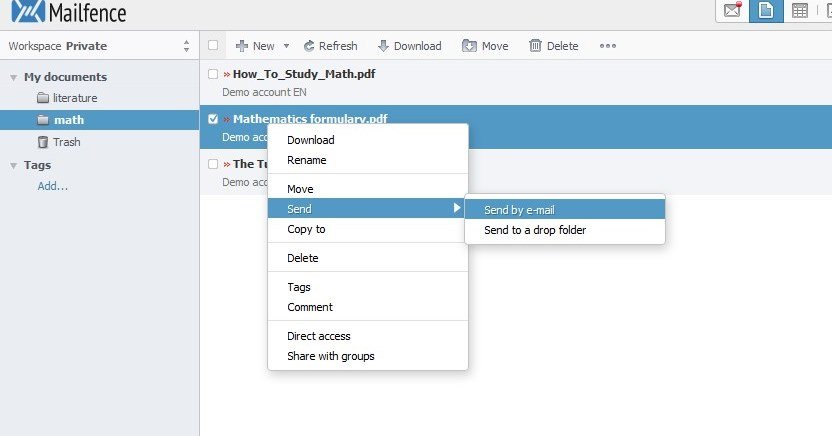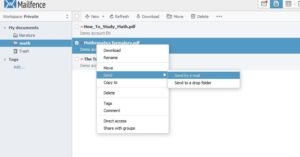 Mailfence is a security-centric and the most secure email service provider based in Belgium.  It incorporates an OpenPGP public key encryption which means that you can access it through SMTP and IMAP. It is possible to create a key pair for your account and manage a store of keys for individuals whom you want to email securely.
Mailfence gives freedom to its users to securely communicate with anyone from another email service that is compliant with the OpenPGP protocol. It offers a digital signing and an end-to-end encryption based on the OpenPGP standard.
Pros
It does not use ads
It supports two-factor authentication
You can import contacts from Gmail, CSV file, Outlook, and
You can import messages in the EML format
Emails are digitally signed so as to prove authorship
Cons
You can only send encrypted emails to OpenPGP users or Mailfence.
#5. Yandex Mail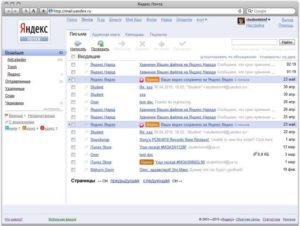 Yandex Mail offers a full and rich email experience with unlimited storage and a powerful web access. It comes with 10 GB of space to ensure that you never run out of space and it continues to grow as its usage increases. Yandex Mail has the ability to collect new messages from your existing accounts (both IMAP and POP) and also import your old mail as well.
Unlike other email service providers Yandex.Mail scans all incoming emails for phishing, spam, and malware. It has a filtering that is reasonably accurate making it easier to report both good mail and spam.
Pros
It allows you to schedule mail and get reminders in a situation where you don't receive any replies.
It has unlimited storage
The IMAP and POP allow flexibility of access to Yandex.Mail
It makes it easier to find related emails by contact and thread.
Cons
It cannot access IMAP accounts such as desktop email program
It lacks text snippets that learn by example
 #6. Tutanota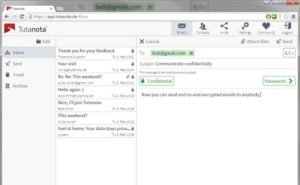 Tutanota is a service provider based in Germany. It's also a web-based secure email service that provides the best security and experience to its users. They have developed a proprietary solution that is based on AES which encrypts texts, attachments, and subjects.
They do not record email addresses or IPs in their servers to guarantee anonymity and privacy. The Plus account goes at around $1.50 per month which makes it a cheaper option compared to other most secure email providers.
Pros
It supports all browsers
Offers unlimited number of sent messages per day
Offers complete end-to-end encryption
You can expand your user count and cloud storage
Premium account users have the freedom to use their own domains with Tutanota.
Cons
It only uses the AES-128 encryption
#7. Runbox
Runbox is an email service provider based in Norway. It is a secure email service that uses two-factor authentication with no external tracking cookies. This makes it difficult for your Runbox email account to be hacked by scammers. Emails sent through Runbox are channeled through a secure encrypted connection.
Everything between your email address and Runbox servers is also encrypted. With just one account, you can create most secure email aliases to use different email addresses. Runbox is both powerful and reliable in the processing and storage of large amounts of data.
Pros
It has a uniquely designed interface
It has a 30-day free trial and offers 60-day money back guarantee
Has plenty of storage space
Gives universal access via IMAP, WAP or Web.
Cons
It lacks a mobile app
Has less storage capacity
It has high subscription costs for businesses.
 #8. Zoho mail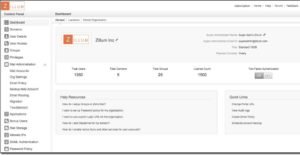 Zoho mail is another free email service provider that provides a minimalist interface and unique features that are geared for professional and business use. Unlike other email services, Zoho mail is ad-free. It has a remarkable platform and user-friendly features that are just hard to ignore.
With Zoho Mail, you can create and edit documents because you have access to an online office called Zoho Docs. They are pretty good at securing your emails as they safeguard your data using a 256 bit SSL encryption.
Pros
It has high-level security systems
Has easy signups
Has an instant chat option
A dedicated task manager
It is ad-free to protect your privacy
Has premium features of the inbuilt calendar and notes functionality.
Cons
It doesn't offer the option of importing contacts from other accounts.
#9. AOL Mail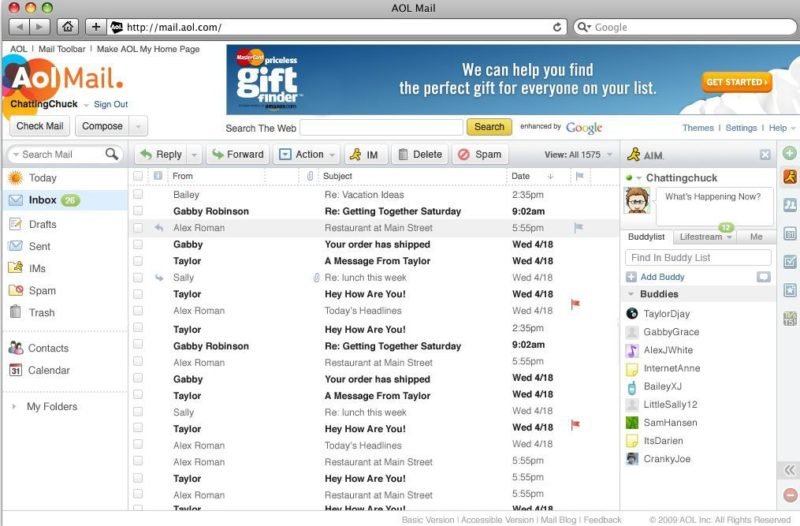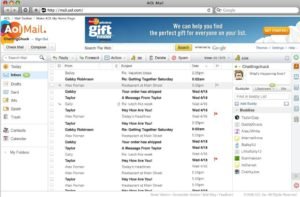 AOL mail trends as a free email service that has very good spam protection and unlimited online storage. Its interface is friendly and very easy to use. It makes up for some productivity by integrating chats and social networking services as well as IMAP and POP.
It offers a smooth experience with its very efficient and sophisticated spam filtering. It comes with an AIM client that allows you to exchange instant messages directly in your browser. You can flag messages for a follow-up since search mail operates efficiently for various criteria.
Pros
It has solid security features and a stellar spam protection
It comes with a rich interface that makes it easier to use.
It also integrates chats, calendar, and social networking
It offers unlimited online email storage space and access to IMAP and POP.
Cons
It doesn't thread messages and does not support encryption.
#10. Kolab Now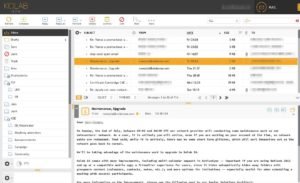 Kolab Now is an email service provider based in Switzerland. It is focused primarily on providing small and medium-sized enterprises with a complete online office suite and most secure email services. With Kolab Now, you can easily pass confidential information through emails without any worries.
It directly charges its users by offering several monthly and annual plans for an individual account. Your data is protected from scammers, government agencies, and advertisers.
Pros
It offers a full business suite
It guarantees high security for email accounts
It has an integrated app for taking notes
It offers an email-tagged support
It provides a great all-around email privacy
It is an open-source encrypted email service
Cons
The rates are getting higher at a quick pace
Conclusion
There are no several email services that can guarantee security and anonymity when it comes to privacy. The above-listed emails have been proven to keep your emails private and secure as possible. End-to-end encryption can always safeguard your emails when sending them to other users.