Businesses around the world have an increasing need to measure and improve the productivity of their employees. Sometimes, the management just wants to stay on top of things and monitor the activities of their staff, their time and attendance or their computer screens, making sure that everyone is working according to an agreement. More often, managers seek to measure the actual productive time at work, learn about the productivity of individual employees and teams, spot distractions and unproductive behavior on time and work together with their employees to improve the productivity in the company.
New technologies that help management in these tasks are constantly developed, and among these, time tracking solutions take a prominent place. Time tracking solutions enable managers and employers to see how employees spend time on computers at work, measure the actual productive time and track time devoted to specified apps and websites.
One of the many solutions available is WorkPuls. Here, we present a review of the software, including key features and some comments on the usability of the solution for business users.
The company offers a free trial for 14 days, and therefore, it is easy to sign up for the solution and start using it immediately, straight from their website. They will ask for your e-mail, but no credit card is required to sign up, install and use WorkPuls during the free period.
After the quick setup, you get to add the computers (employees) whose time you want to track, and you are ready to start getting automatic insights from the solution. WorkPuls comes with several features, many of which standard for a time tracking solution. But it also offers some options not always found in other solutions.
So let's start
When you open the user interface from your web browser, WorkPuls will take you to the dashboard with the general overview of various productivity related data for your company, which WorkPuls automatically calculates. You will see productivity trends for the selected period, most used apps and websites in the company, and your top employees. From here, you choose the other available features and reports.
The "Real Time" View
Have you ever thought that you were not sure what the employees are up to and would like to see in real time if the employees were staying on task? This feature provides you with an answer as it shows the real time use of apps and websites in the company. Unproductive apps and websites are automatically highlighted, which is convenient if spotting slackers are what you are after. Managers can also see whether employees are on their computers or absent.
Time and Attendance
This feature allows employers and managers to see the clock – in and clock – out time of the employees, their active and idle time, office time and overtime. This information is calculated automatically based on computer activities of the employees, and without a use of punch cards and no manual data entry from the employees themselves.
Apps and Websites Feature
This feature allows managers to measure the time spent on apps and websites. It shows you which employees use which apps and websites and in what part of the day. This could be useful for managers who want to learn more about whether their employees understand the tools they use and if they might need additional training. In other words, if an employee is spending three times more time on Excel files than expected, you might want to see whether they any additional training. Another possible use case for this feature might be in the field of software budgeting – from these insights, it is easy to understand whether that expensive software solution you keep paying for is used by your employees.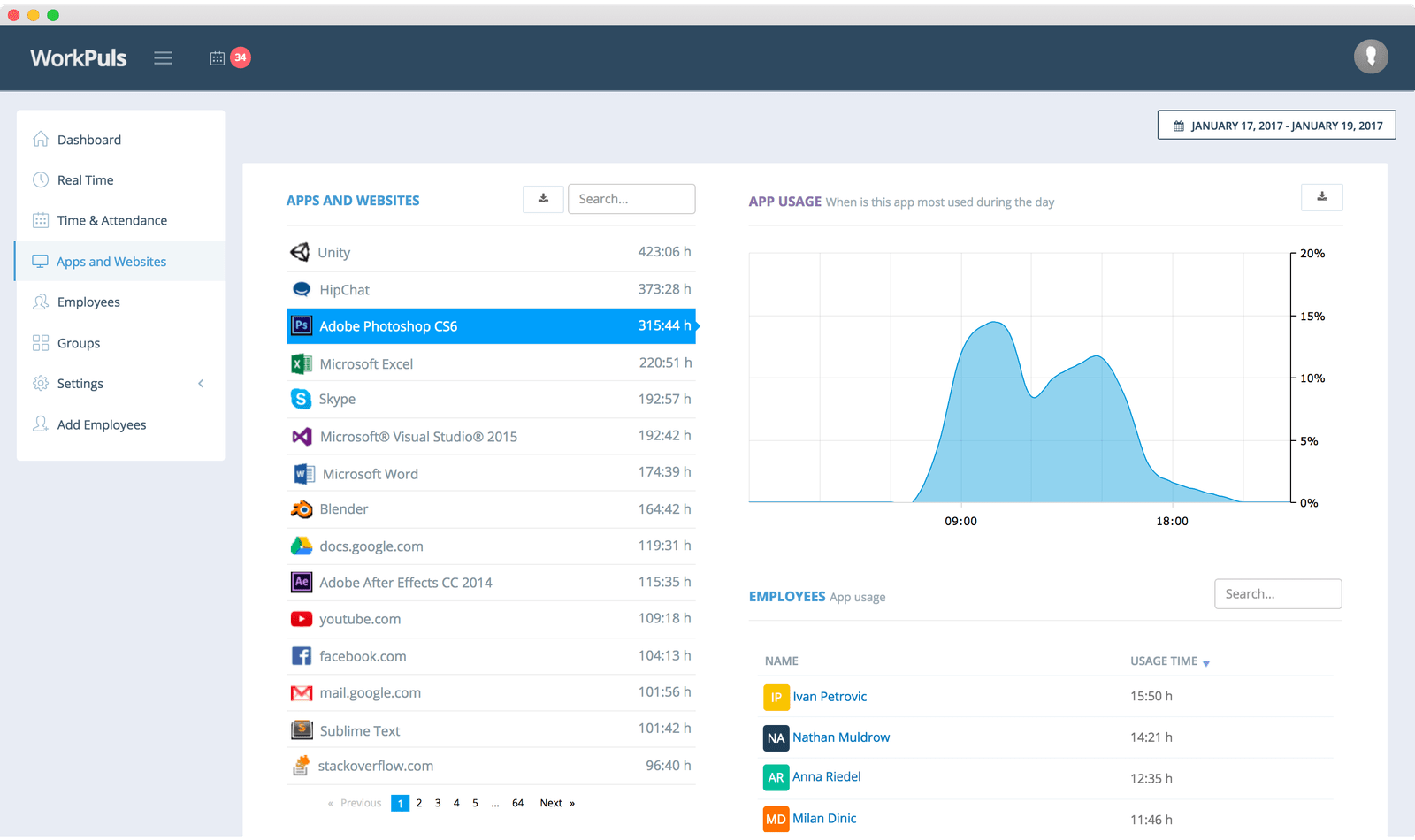 Employee Page (Productivity)
Perhaps the most detailed of the reports WorkPuls provides, meant to show managers a deeper insight into the productivity of each employee and team. Clicking on the Employees tab, the user gets to the detailed productivity statistics for each employee and team. When an employee is selected, this page will show productivity trends over the selected period, time and attendance reports, active and inactive time, office and overtime, with calculated averages for the desired period.
It gets even more interesting when you scroll down. Just below, there is a timeline, showing the graph of events during one day. This feature also allows employees (in companies that are transparent about the use of WorkPuls and let employees know the software is used), to fill in their inactive time slots with explanations. In other words, if an employee is at a meeting and the software registers them as inactive, they can write down what they were doing at the time and let their bosses know.
If you scroll further, the page will show you top productive, unproductive and neutral apps and websites for the specific employee for the selected period, along with a productivity graph – a graphic view of time usage. This allows managers to observe trends in employee productivity, as the graph shows productive time of the employee for each day of the specified period.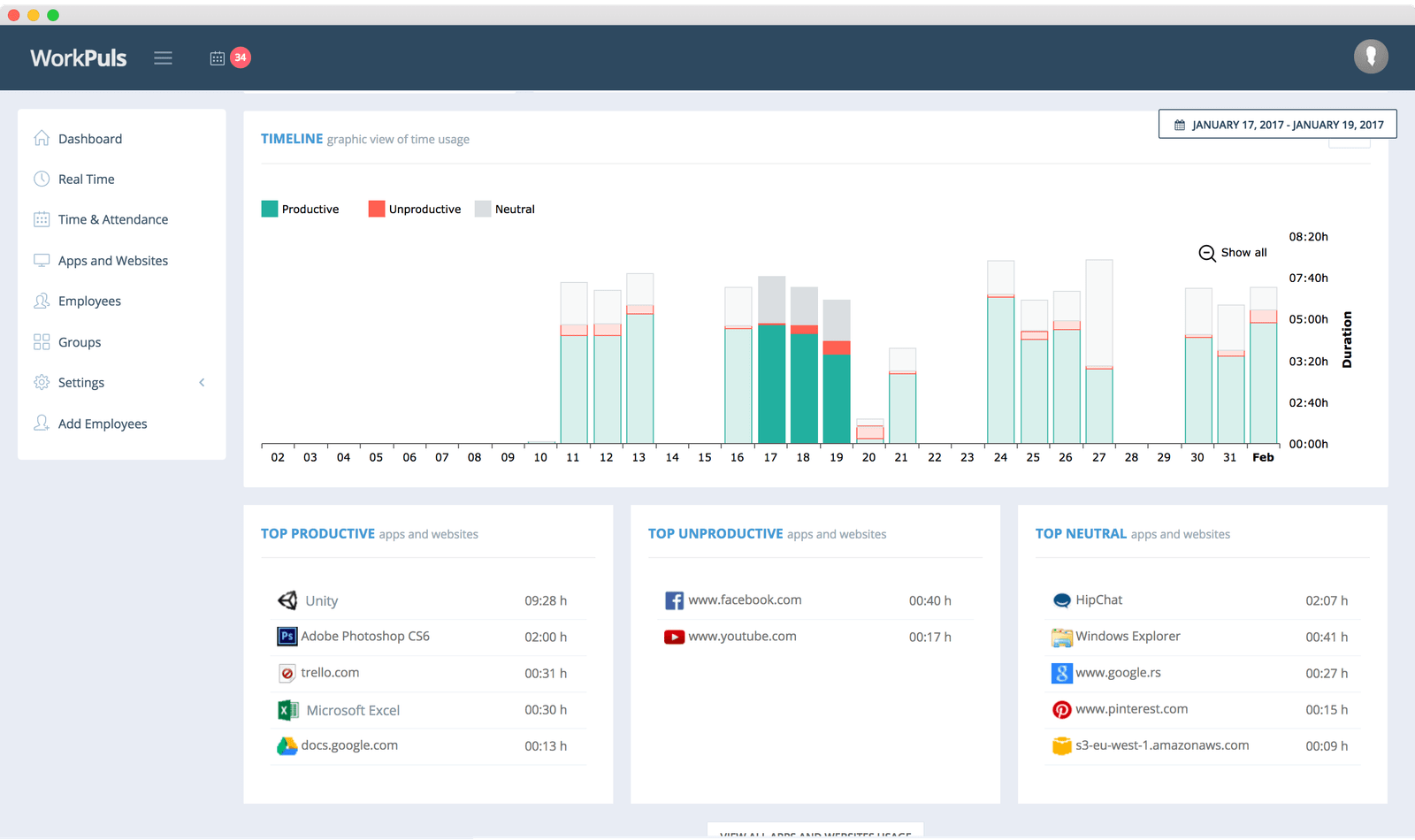 If you have ever wondered what an average day of the employee looks like productivity – wise, this page will also show you the productivity biorhythm of the employee. This way managers learn whether an employee is a morning or an evening person when they like to take breaks when during the day they have most work to do and so on. This graph could be valuable for HR managers and directors looking to understand the patterns of employees in the companies, but also for managers who would like to know best times to schedule meetings and learn how to better allocate work in the company.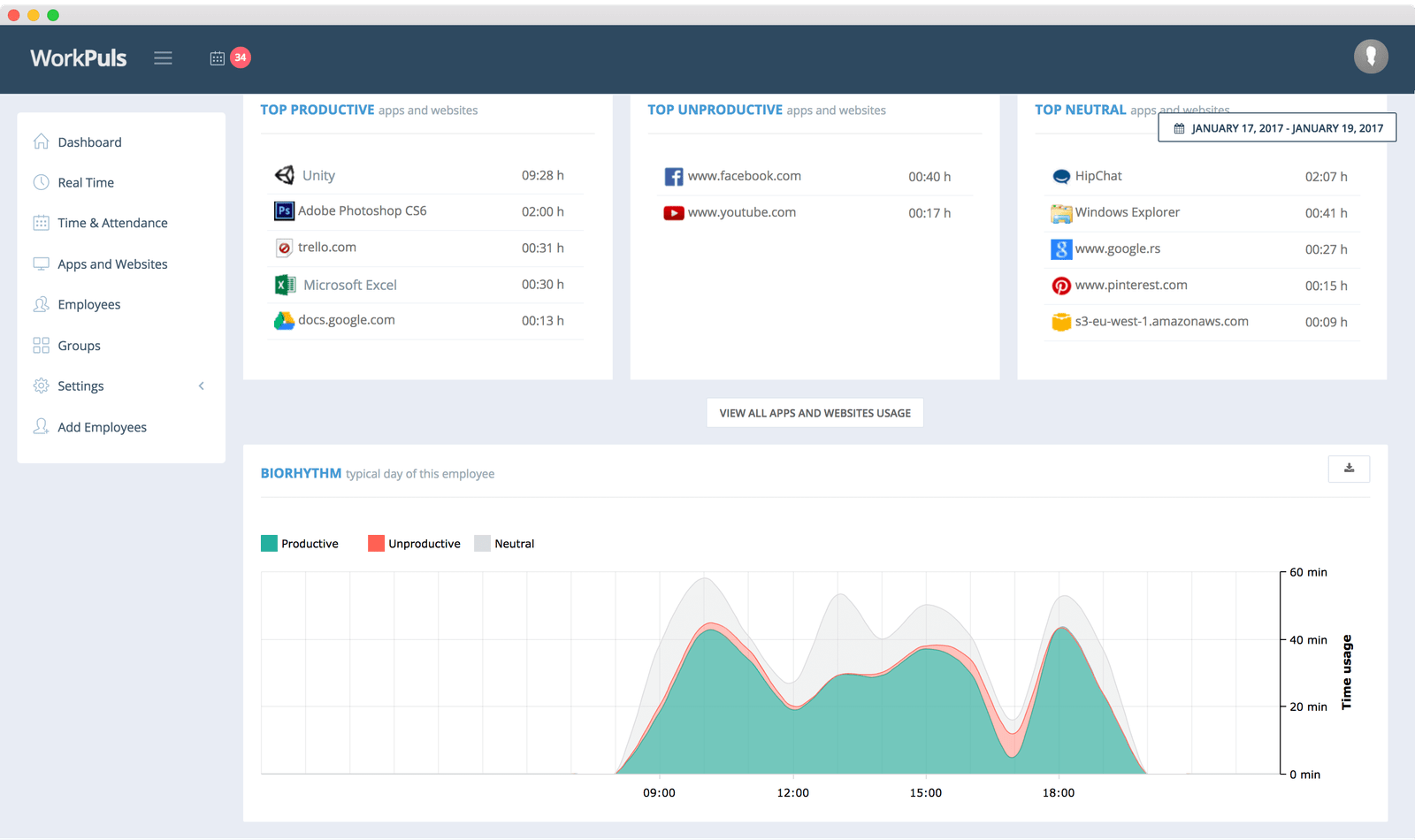 Besides these features, necessary for managers who want to monitor, measure and improve the productivity of the workforce, WorkPuls has just been upgraded with some optional features.
Screenshots
For companies with a more strict culture, WorkPuls brings the optional feature which allows managers to receive a set number of random screenshots from employees computers at selected time intervals, defined as the number of screenshots per hour. Bearing in mind that screenshots are a whole different level of monitoring than time tracking as described above, it makes sense that this feature is left as optional. But for the business environments where this kind of reporting is encouraged, necessary and justified, we believe this feature will meet the demands.
Employee Login
Another optional feature, for managers who want to engage their employees in the productivity evaluation process. With this feature, the employees are enabled to observe and measure their productivity. Basically, with this feature, each of the employees can see their Productivity statistics and graphs as described above. Also, the employees can use the daily activity timeline to leave comments on how their inactive time is spent, which we understand as useful for those employees who often have to leave the office for meetings and similar activities and tasks away from their computers.
All in all, WorkPuls comes with all of the core time tracking features you would expect from a well – thought out time tracking solution. It is easy to install, set up and use, and this can be done in a few minutes. The reports are automatic, and the interface is easy to navigate. These features, which are optional, are a nice addition and provide employers and managers with additional flexibility, whether they want to strictly monitor their employees' computer activities, or work together with them in a transparent way to improve the performance on the company level.
The market of time tracking solutions is big, and there are many competing solutions on the market. WorkPuls comes with all the core features that one might expect from these solutions and focuses on keeping the balance between ease of use and insightful reporting. It is a solution that is worth considering if you are a business owner or a manager with an initiative to measure and improve the productivity of the workforce.