Most Mac users may use multiple types of drives, such as internal disks, external drives, and network drives, to store their data. But if the Mac operating system doesn't support that drive, it will make it difficult to manage these disks. In this case, having a disk management app helps you easily handle these disks and protect your data. iBoysoft Drive Manager is such a useful tool. As you're about to see, we'll talk about this software in this article.
What is iBoysoft Drive Manager
iBoysoft Drive Manager is a handy tool that allows you to manage multiple external drives and network drives on Mac. It delivers a set of powerful features that work together to easily optimize your disk usage and protect your data.
The software is very handy for people dealing with multiple external drives, especially useful for people who want to use NTFS drive on Mac.
System Requirements and Supported Devices
iBoysoft Drive Manager performs perfectly on macOS 10.15 Catalina, macOS 10.14 Mojave, 10.13 High Sierra, and 10.12 Sierra. The software also supports Mac OS X 10.11 El Capitan, 10.10 Yosemite, 10.9 Mavericks, 10.8 Mountain Lion, and 10.7 Lion.
It supports wide range of storage devices, such as external hard drives, USB flash drives, SD cards, CF cards, MicroSD, SDHC, memory cards, memory sticks, and microcards.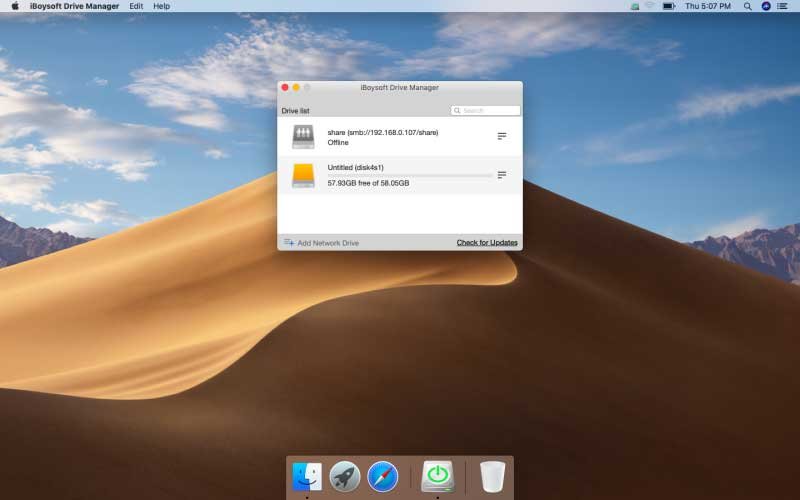 Key Features
Let's dive right into the key features of this software:
#1. Read and Write to NTFS Drives
Apple's macOS has been designed to read Windows NTFS formatted drives but not write to them. That means you will often encounter problems when you try to transfer files between Mac and PC. iBoysoft Drive Manager solves the cross-platform incompatibility issue by providing full access to NTFS formatted drive on Mac. Once you install this NTFS for Mac software, you can edit, copy, move, deleted and move files from NTFS drives.
#2. Mount Boot Camp partition in Read-write Mode
Boot Camp is a built-in software developed to effectively run Windows on Mac hardware. But the Boot Camp partition is NTFS and your Mac, by default, won't be able to write to it. iBoysoft Drive Manager can enable full read-write access to NTFS-formatted drives or partition on Mac with fast speed.
#3. Map Network Drives as Local
Unlike installed hardware, macOS doesn't automatically detect network devices. You need to enter the address of the network drive and then connect to network drives. But you can't stay connected after the network connection drops or you reboot the Mac. It's a slightly inconvenient extra step that you have to repeatedly find and mount network drives manually. Then that's where an app like iBoysoft Drive Manager comes in very handy.
iBoysoft Drive Manager offers a quick way to connect and access network drives. It allows you to add a list of network drives and then automatically mount the drive every time you start your Mac. With its help, you can access shared resources with the least amount of effort. The software can map various network devices as local ones, including file share, FTP server and more.
#4. Manage External Hard Drives
If you have multiple external drives on Mac, iBoysoft Drive Manager can be your best assistant. It will safely eject external drives when your Mac operating system is going to sleep, which avoids data corruption after unsafe removal. Be it is an NTFS, exFAT or FAT32 external drives, you can manage with one click.
#5. Easy to Use
iBoysoft Drive Manager is the easiest tool I have ever use till now. When you connect an external drive or network drive, this software will show it on the menu bar. You can mount/mount all external drives, connect and disconnect all network drives through one click. It also has customizable preferences to let you set up notifications, mounting options and so on.
Test Run
After quickly downloading and installing the app on my MacBook 2017, it shows up on top taskbar of my desktop. When I inserted in my Samsung external SSD T3 (NTFS format), its contents instantly came up in a Finder window. Then I could do everything with the NTFS drive on Mac. I successfully moved a bulk of videos from the drive to Mac and the process completed after several seconds. Super-fast!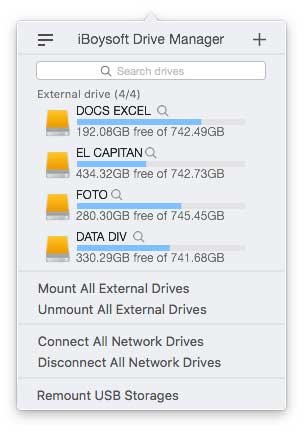 From the menu bar, I noticed the software listed all drives it detected which are mounted or not. I wanted to eject my Samsung external, so I clicked on the up cursor near the drive to unmount it. Very clear!
Price
iBoysoft Drive Manager provides a trial version for 7 days. Afterward, you need to unlock the full version. You could pay $29.95 for one Mac, $49.95 for 3 Macs, and $69.95 for 5 Macs.
Final thoughts
To conclude, I found the iBoysoft Drive Manager to be fairly impressive, offering rich functionalities. It enables you to read/write to NTFS drives, mount Boot Camp partitions in read-write mode, map network drives as local, and manage external drives within one click. It is easy to use and operates straight out of the box, and they did a good job of doing so.