Context or keyword – which of these elements is most likely to boost your rankings in search engine results?
Since the Hummingbird algorithm update in 2013, Google has become pretty good at understanding natural language. As a result, keywords have lost their crown as the most powerful ingredient of a successful SEO strategy. So some professionals are arguing that context matters more than keywords in helping Google interpret content.
And, they are right to some extent, but I wouldn't go as far as proclaiming the death of keyword research. Google still needs keywords to figure about what your content is about.
Just think about the last time you searched for something on Google. You probably used a few keywords, such as "best restaurants in [insert city]" to find relevant content. And I bet all of the results on page one included almost exactly those words.
Keywords can still make a difference to your content ranking, and being clicked in a Google search. But obviously, you need the right research tools to find the best ones for your needs.
Here's a look at some alternatives that aren't From Google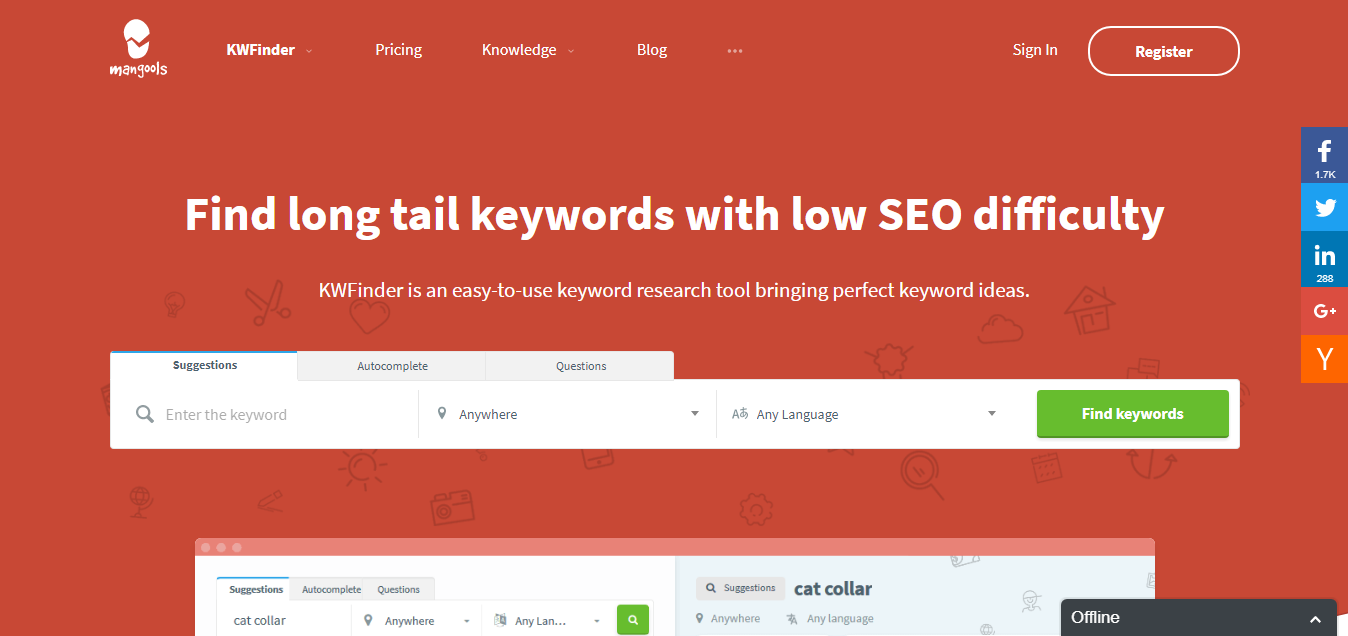 KW Finder is a tool that is very similar to Google AdWords. Translation: you won't have to spend too much time trying to understand how it works. Just like Google AdWords, this tool shows you keyword suggestions, how they are trending, the number of searches, the cost per click, as well as how hard it is to rank for them.
Moreover, you can also get insights about how well a site performs – from its domain authority and estimated visits per month to how many backlinks or social media shares it has.
And do you know what the best part about this tool is?
You guessed it: it's free. (Until you hit your limits)
One of the things that make Keyword Tool such a crucial instrument for any business is that it can provide you with unique keyword suggestions that other platforms might have ignored. But, here's the trick: if you want to access all the information you need about the keywords, such as search volume, AdWords competition or cost per click, you will have to upgrade to the Keyword Tool Pro.
The Pro plan costs $88 per month, but it's worth it. Unlike other keyword research tool, this one doesn't focus exclusively on Google. You can get insights for other platforms too, such as YouTube, Amazon or eBay.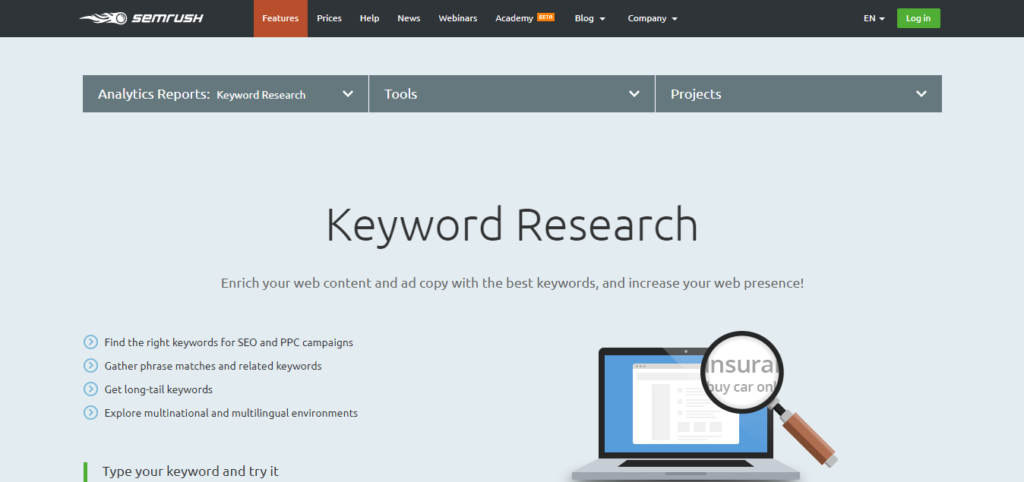 SEMrush is probably one of the most popular keyword research tools after Google's Keyword Planner. And, for a very good reason!
Not only that it provides you with both head and long-tail keywords suggestions, along with comprehensive insights about each one, but you do your research for keywords in over 131 different languages.
Another great thing about SEMrush is that it also shows you the phrase matches for your keyword along with related keywords with their search volume and CPC. In other words, it offers you a comprehensive peek at your competition and how they are performing, which can be an extremely valuable asset.
It can happen to the best of us: you're trying hard to find a potential gem, but you get stuck. That's where a tool like Ubersuggest can come in handy and help you come up with new keyword ideas.
Whether you are looking for a head or long-tail term, this tool will provide you with hundreds of suggestions. You will also get valuable insights regarding search volume, competition, cost per click, as well as seasonality. You will also get realistic data about how hard it is to rank for a certain keyword.
All that and even more, for free.
The name is self-explanatory. SpyFu is an essential tool that lets you spy on your competitors' most profitable keywords and ads.
One of the things that make SpyFu such a great asset is that it's incredibly easy to use. All you have to do is enter your competitor's website, and you'll gain access to extensive data that includes how many keywords they are ranking for, the ratio of organic to pay traffic or the estimated number of click per month they are getting.
You can also analyze their top keywords, how many of them are maintaining their status, and what keywords they pay for versus the ones that drive traffic organically.
If you want to search for a specific product, you can use a product research tool for your better-desired result.
Conclusion
Not even the best tool will guarantee you a high placement in search results if you aren't smart about your keyword research strategy. Be realistic about your expectations and opt for low-competition keywords. Sure, you won't drive tens of thousands of views per month, but the traffic you get will be qualified and more likely to convert.