Keeping data on an external hard disk helps you to multifold your storage space away from your own computer. It is an effective way to store data on external hard drives to deal with cluttered and unorganized data on your system. It is very common when your system's internal hard drive gets corrupted due to various reasons and you wonder how to recover data from it. The same is the case with an external, partition structure damage or loss, damage due to power failure or surge, and other reasons. To recover data from damaged or corrupted hard disks is easy by using different data recovery software for Windows. You can use these tools for instant and accurate results. Before you recover data using these tools, it is important to remember that you should not overwrite data on an external hard disk for easy recovery of data.
Advanced Disk Recovery: This state-of-the-art data recovery software for Windows is designed to recover permanently deleted files and other files instantly and efficiently. It helps you to recover all types of files from any type of device including internal hard drives, external hard disks, DVDs & CDs, USB drives, removable devices, drive partitions, and much more. This simple yet powerful software program offers an intuitive and user-friendly interface for improved user experience. It allows you to select from Quick or Deep scan modes.
l hard disk which may get corrupted due to various reasons and you can't access data on it.
Your external hard disk may get corrupted due to reasons like virus attack, accidental file deletion or format, critical file system structure loss or corruption, unexpected system shutdown or application failure
In Quick scan mode, it scans the system Master File Table (MFT) to find and recover all similar name files. In Deep scan mode, it uses file signatures to find and recover deleted files & folders. This highly useful & effective tool offers a few simple steps process to recover data efficiently.
Recuva: This easy-to-use tool comes in both installed and portable versions. It contains a simple wizard and advanced options for the easy recovery process. It supports a wide range of Windows operating systems. Recuva works in the background to recover your data seamlessly. Its manufacturer provides regular updates for the program for improved results. It offers Quick and Deep Scan modes to cover all technological bases in the search for recoverable files. It can recover files from USB drives, internal or external hard disks, memory cards, MP3 players, BD/DVD/CD discs, etc. presumably they are corrupted, damaged, or reformatted.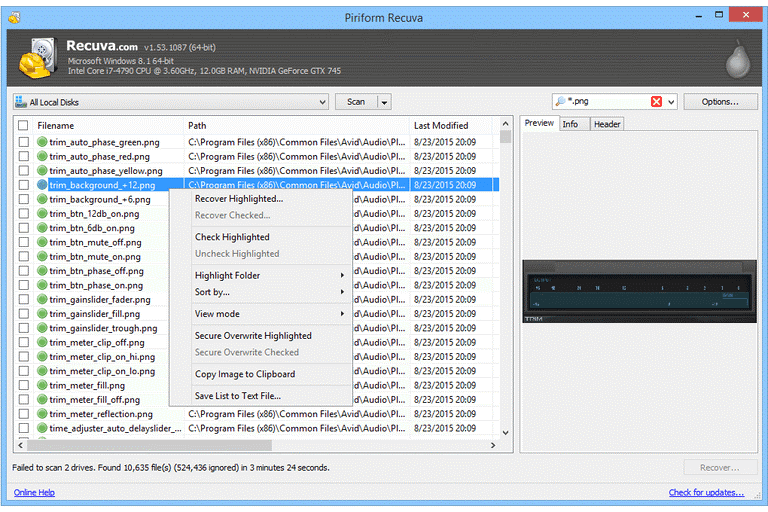 Pandora Recovery: Pandora Recovery offers color-coded and percentage indicators for the easy recovery process. It includes the latest filter options to make this simple to find and recover files easily. It allows you to browse through the files to recover them. Alternatively, you can go to the Search section to find files by name, file size, or by the date, it was created. It allows you to see the file size, file extension, creation and modification date, file extension, and what percentage of the file has already been overwritten by other data on your system. Using this tool, you can browse, search or Deep (Surface) scan your files depending on your needs as described in the wizard.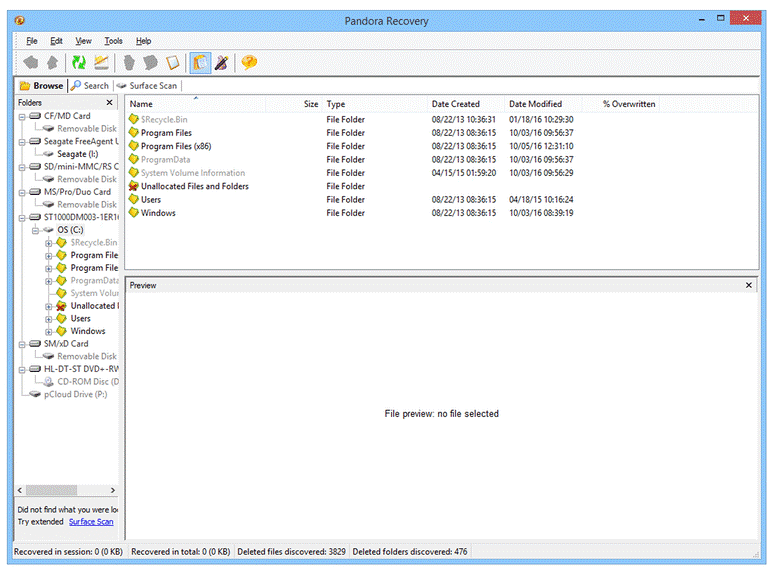 Wise Data Recovery: Wise Data Recovery displays the recoverability of a file with a green, orange or red circle next to the file name. Here, a green circle means, good recoverability status, orange means poor recoverability status and red means lost the file. This function helps you manage your files easily. Apart from this useful feature, it works as a portable program to help you recover data from any external drive. Using this tool, you can recover multiple files simultaneously. It works with 32-bit and 64-bit versions of Windows. It helps you recover files by their name and extension.
SoftPerfect File Recovery: SoftPerfect File Recovery is a useful program for recovering files from your internal or external hard drive. This lightweight tool is completely free and easy to use. It even doesn't require installation to work thus you can use it as a portable program. Before you run a scan, it allows you to enter the name or extension of the file you are looking for. It supports all Windows versions. It helps you recover files from NTFS and FAT drives and others. It can restore multiple files at one time.
Using data recovery software programs makes it simple to recover data from corrupted or damaged hard drives. These useful tools help you recover all types of data effortlessly to save your time and effort. You can use these tools for improved results.
Summary: Using data recovery programs make it simple to recover data from external or internal hard drive easy.  Let's discuss some of these tools to help you recover data from an external hard disk.